A recent incident featuring Reds second baseman Brandon Phillips is proof that if you work really hard as a heckler, you will get noticed.
The story goes like this... (it's based on this reddit post)
Two Pirates fans decide to attend a game and ended up imbibing and heckling, which is sometimes a good idea but more than often a recipe for a quick escort from the premises. Beggining with Joey Votto they tossed out "Votto has feminine legs", and "Looks like Votto could easily birth twins". A good start, but these two diehards weren't content to leave it at that. After a rain delay that left the stadium half empty (thus assuring great acoustics and no competing fans), they turned there sights on Brandon Phillips. The reported line they used "Look how slow Phillips is" seemed to do the trick and it resulted in Mr Phillips coming over after the game with an autographed ball with a message on it.
This story is similar to what Vernon Wells did to a heckler in Cleveland in 2007. After a few innings of good natured back and forth, the fans got this message on a ball...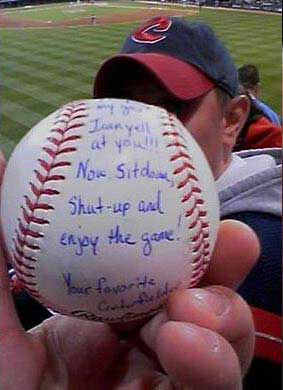 These stories are ok, but don't compare to what happened once in Boston. A fan asked Dwight Evans for a ball. The fans signed the ball and lobbed it back.